If you're anything like me, you likely go to the grocery store about a thousand times a week, and somehow you STILL don't  have everything you need for dinner, or you just don't even have the headspace to plan something, so you just eat whatever is around or nearby. With my busy (and unpredictable) schedule eating a healthy dinner can be tough at the best of times, as I'm sure many of you can relate. A lot of times I grab something out, or quickly on the way home, and it's never as healthy as I would like.
You can imagine my excitement when Hello Fresh reached out to me. I pretty much jumped at the chance to review one their plans. I mean fresh ingredients and easy to make recipes delivered right to my door? What more could I ask for?
HOW IT WORKS
You select the type of plan you want, and then you choose which meals you'd like. Currently, there are three different types of plans: Pronto, Veggie, and Family.  For now, you do have to choose three different meals from the options (that change each week), but I've been told this could change in the future.
This past week I tried the pronto box, so inside were ingredients for three meals neatly tucked away in the box you see below.
Everything is pre-portioned, and included in the box that you need to prepare the meals (unless it's something like sugar or olive oil which most people would have on hand already).
I decided to show you how I prepared my favorite of the three dishes, the Spinach and Feta Stuffed Chicken. I'm not kidding when I say this was the best chicken I ever ate, and like not just the best chicken I ever ate at home, but IN MY LIFE. There's something about the salty feta and the spinach that make a delightful combination. Download the recipe here.
SPINACH AND FETA STUFFED CHICKEN
Preheat Oven to 425 (to bake the chicken). Start prepping when the oven gets to temp.
Wash and dry all produce. Boil your sweet potatoes with a dash of salt.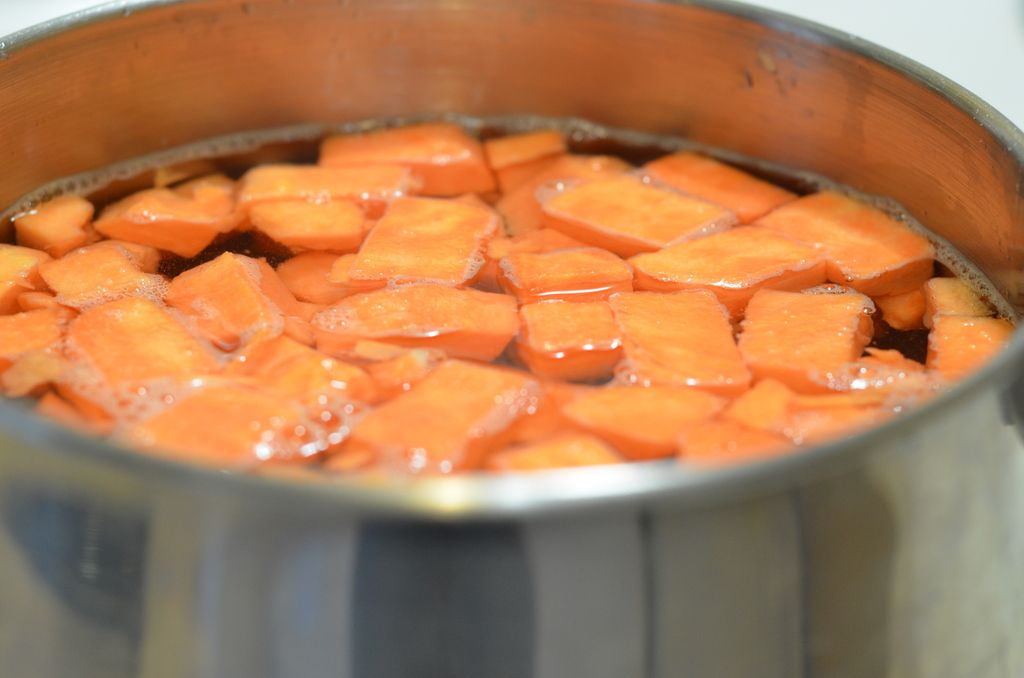 Meanwhile prep the spinach.
Combine spinach and feta in a small bowl. I definitely overdid this. I couldn't fit half of this into my chicken, and because I toss my slimy hands back into the bowl I couldn't use it for anything else. I would downgrade this by half again.
Cut the chicken to create a small fold of pocket for the spinach and feta.
Stuff the chicken with the mixture, and seal with a toothpick. I totally thought my box didn't come with toothpicks, so as you will note I didn't close mine. They were totally in the box and I found them only once the chicken was in the oven, so I didn't bother lol. They turned out fine.
Cook the chicken. The directions suggested browning it first,  but since I missed the boat on the toothpicks there was no way I was tossing these guys into a pan (and flipping them). I just skipped that step and put them in the oven on parchment paper. And drizzled them with oil, and seasoned with salt and pepper.
Bake your chicken until it reaches a 175 F temp. And set aside.
Drain and mash your sweet potatoes with butter, and a dash of salt and pep.
Make your salad last. Combine the honey, vinegar, and dijon mustard with a splash of olive oil and salt and pepper until emulsified and because it's actually amazing I drizzled it over everything (trust me, it's really that good).
And that's it! The whole operation took 30 mins. Which honestly is pretty sweet for a weeknight meal, and this was definitely our favorite of the box.
WHAT I LOVE ABOUT HELLO FRESH
I would DEFINITELY opt for another one of these boxes, and actually, I've ordered another for next week, and I'm super excited.
Not having to think about what to make or go out and actually buy the stuff is extremely helpful.
I also really liked that it forced me to try new recipes. The recipes were super easy, and everything was there, so it wasn't stressful to prepare in the least. I love trying new foods, and recipes so this is a great way to test the waters. While chopping my herbs, and fresh garlic I have to say I really felt legit.
As well, another bonus of the Hello Fresh Plans is that all the nutritional information is included! Whether you're concerned about sugar intake, carbs or protein everything is there.
I love that you know EXACTLY what you're eating. If you follow the recipes as is, there's no guess work about what or how much you've eaten!
I can't imagine trying to do this on my own (actually I really can't because I just wouldn't), but having all the information laid out for you is incredibly helpful and informative.
AFTER THOUGHTS
The only thing I will say that I had reservations about was the amount of plastic waste created with having ordered this box. We don't use plastic bags at our grocery store, and we really try to reduce our waste as much as possible and buy our foods accordingly. Unfortunately, that would be the only thing that I would say I feel bad about. Then again though with this type of service I'm not really sure how Hello Fresh could get around this either. It's just something I noted, and subsequently did kind of feel bad about.
In addition, (and maybe this is something they'll consider in the future) it would be great to be able to opt for a low-carb or gluten free box. We don't typically eat white bread or pasta, so it would have been nice to be able to make a special request to opt-out of these ingredients so we could avoid things like the white buns with the burgers (which we didn't use), and the pasta (which limited our options for meals).
I fully realize we are the exception here, and these meals are wildly healthier than most of what I think most people are eating for dinner. It's certainly much better than anything I could pick up at the drive-thru on the way home.
WHY I WOULD (AND AM) ORDERING ANOTHER BOX
That being said I would have ordered 3 meals of the stuffed chicken with feta and spinach it was THAT good. All the ingredients were really fresh, the produce and meat were some of the best I've ever eaten (not kidding).
It's clear Hello Fresh really stands by their name and is committed to bringing fresh food directly to your door.
All the ingredients were perfectly arranged and over three freezer packs. It soothed my OCD soul that the meat was completely separate from all the other ingredients (even though everything was in plastic anyway). Everything was very cold upon arrival; the ice packs weren't thawed out in the least, so I definitely took comfort in knowing that everything was stored properly.  In terms of flavor, I really honestly have nothing negative to say about the quality of any of the meals or ingredients. We really enjoyed them all very much which is why we're totally opting for another box!
I'm super excited to try the meals in my second box, and of course, I will absolutely keep you posted. Be sure to follow along on my social media accounts @shortpresents
Thanks so much for reading this post (all the way through).
If you're looking to try a Hello Fresh box for yourself use the code SHORT50 to receive 50% off your first box.
And definitely keep me posted! I want to see all your healthy meals!
xx
Short Presents