Boston truly is a charming city, and we really enjoyed our time spent there, even if it was just under a week. With no sales tax on clothing, and numerous summer sales; we just might need to make this summer trip to Boston a regular occurrence. I've compiled a detailed list of our favorite places to shop in Boston in case you are ever in the area and find yourself curious. WARNING: Enter at your own risk blog reader! Caution this blog post can and will eat your hard earned dollars! Dun dun dun…





High end
designer shops, salons, and fabulous dinning line eight blocks of Newbury Street with
everything from Valentino to Ben Sherman. Newbury Street does well to cater to
both sexes when it comes to clothing shops; often times it seems there is an
unfair amount of female shops, and not nearly enough for men. Men want to look
good too right? Well most of them, not so sure about the ones that wear their
boxer shorts as an accessory; put it to bed fellas its not 1991 anymore. I
digressed. Newbury Street
almost feels like a condensed Soho New
York which is great because everything is
conveniently located on one street. Shops worth noting: Rag and Bone, Forever
21, Marc Jacobs, Zara, True Religion, Hugo Boss, Vera Wang, Chanel, Valentino,
Ben Sherman, Diesel Jeans, Fred Perry, Ann Taylor, Denim Bar.
Located
very central to downtown Boston
there are plenty of indoor shops located in the Prudential Mall. The indoor
shopping was a blessing for us when we were caught in a torrential down poor in
the middle of the afternoon. Prudential is your typical mall, food court,
shops, and Starbucks. Shops worth noting: Lord and Taylor, Saks Fifth Avenue and Sephora. Make sure
you visit Cheese Boy for a delicious grilled cheese; we're still talking about
it. Prudential is also participating in Fashion's Night Out on September 6th
with a variety of in-store sales and promotions.
Located in the heart of the downtown area in Boston, Washington
Street is house to plenty of economic shops like H&M, Marshalls, DSW, and
sports stores. Also there are plenty of local vendors out and about selling Boston paraphernalia where
you can pick up little trinkets or souvenirs. Washington
street is also where the Boston Opera House is located, and so
you can literally go see a Broadway show, grab a hot dog from a street cart and
then stumble on another live street show from very vibrant street performers.
Located just outside the city, this outlet mall is worth
the truck (and traffic) out of town.
High end designer brands for less (40-60%) located in a very organized
manner. With a map you can easily plot out where you wanted to go, and in what
section. Shops worth noting: Kate Spade,
Penguin Original, Michael Kors, Fossil, Lacoste, Nike, Timberland, Kitchen
Collection (for the baker in your life), Fragrance Outlet Shop, Make Up Outlet
(sells high end cosmetics like Lancome etc), Coach, 7 for All Mankind.
Strongly recommend Wrentham, we scored some major deals.
I truly believe in not paying more when you can pay less. Means more stuff
right? We literally saved 100s of dollars on items that we would have bought in
Canada
otherwise.
Overall Wrentham is a great economic shopping experience for men
and women alike, there is a variety of price points for shops, so you don't
feel like you need to a millionaire to make a purchase. It is well laid out,
and very easy to navigate especially when you have a map (available on site). I strongly suggest
planning out where you want to go before hand, so you hit all the shops you
want in their designated area. We figured out from the list where we wanted to
go, and then plotted them on the map, so we made sure we didn't miss any places or
have to back track. We're very serious and efficient shoppers/travelers, no
wasted time for us!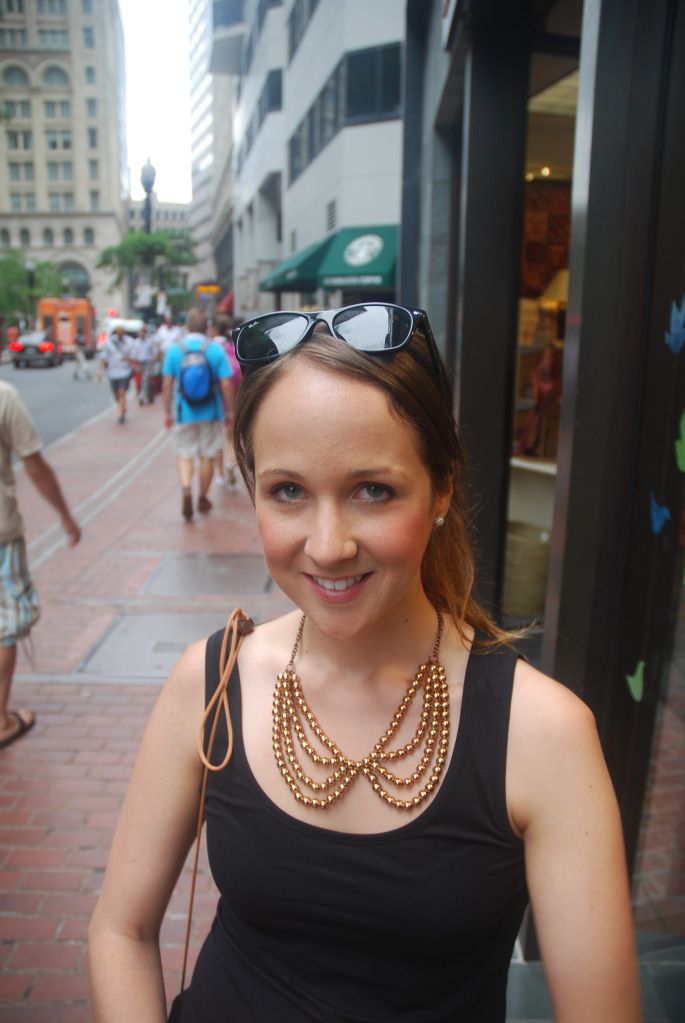 Faneuil Hall Market Place is one great big market space,
combining four markets together. Faneuil Hall, Quincy Market, North Market, and
South Market are all set around cobblestone streets with plenty of street
performers and musicians putting on shows while locally-own retailers sell
their treasures and trinkets. There are also a number of national retailers
like Urban Outfitters, Victoria's
Secret, Christmas Tree Shop (great for Keurig coffee cups and Salt Water taffy).
Soak up the sunshine and the street performers, but check the weather forecast
before making plans to visit this outdoor spot. Look forward to a video being posted to youtube 😀
Target/ Khols/ Marshalls/
TJmax
If you can visit any of these stores you will be sure to find a bargain! check out these shoes! I got them for 80% off plus an additional 20% !
Hope you enjoyed this post blog readers! I certainly enjoyed all of my little treasures! I had the most amazing tour guides, and could not have asked for a better trip to Boston. If you ever find yourself in the city, now you'll know where to head to drain those bank accounts. Be warned! If you're here in August no tax is like quick sand you might as well just dive in!
Much Love,
Sincerely
Short Presents