As soon as you get your Invisalign and you find your groove you're going to think why didn't I do this sooner? I'm currently on my 23rd tray out of 25 with Lawen Dentistry, and it feels like I blinked, and somehow I'm here nearing the end of my treatment and seeing some major results.
Before I finish my treatment I wanted to give you a sneak peek of the Lawen Dentistry office, as well as give you some tips on how to properly care for your teeth while you wear your Invisalign.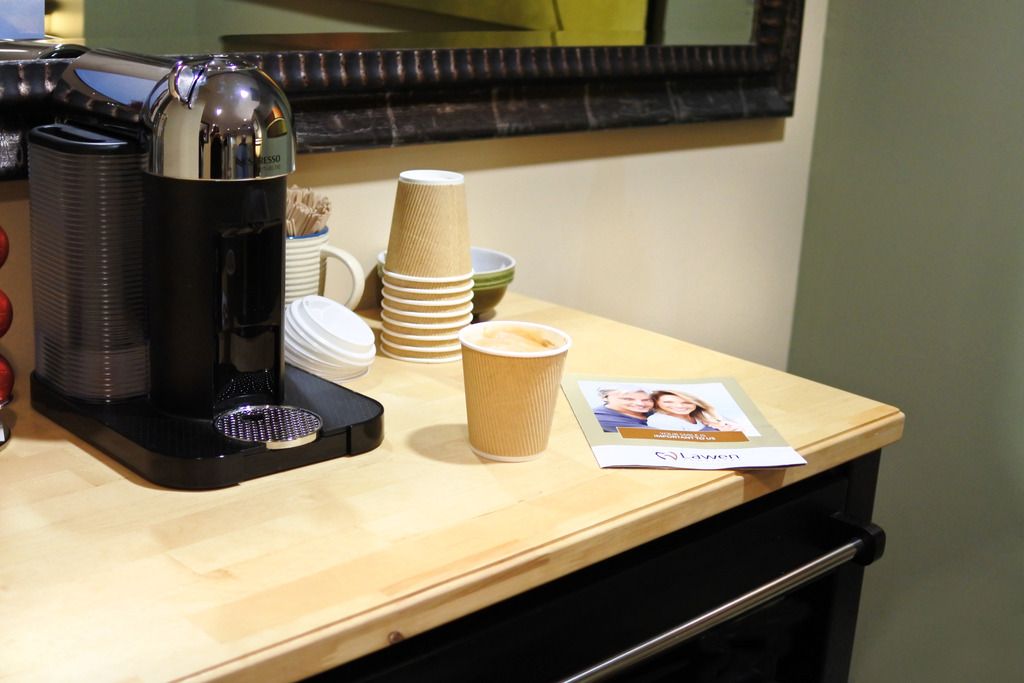 When it comes to choosing the right dentist it's the little things that make ALL the difference. I love the professional yet relaxed vibe at Lawen Dentistry. From the super friendly staff to the super convenient coffee station, refrigerated bottled water, to a cozy waiting space equipped with a tv and plenty of magazines and newspapers. I really feel relaxed and calm during my visits. Which as you know isn't always the case for dental offices.
I think there's really something to be said about the type of environment that's created in a dental office, and a lot of that has to do with the staff. The staff not only moved mountains recently to get my hygiene appointment coordinated with my Invisalign check up (so I didn't need to come back twice); which with my busy (and unpredictable) schedule this is amazingly helpful, but they also just really nice to talk to.
Dr. Lawen is also so sweet and always very informative. The technology for Invisalign is also REALLY freaking cool, and Dr. Lawen is always jetting off to conferences so he's at the cutting edge of it all. At any stage, you can see a digital projection of your teeth and their movement. I think it's really neat to see where you're going (and also how far you've come).
I mean in previous years you would have had to just take your dentist at their word and hope that you liked the results in the end. With Invisalign, you can really customize your treatment and actually, contribute to how you want everything to look.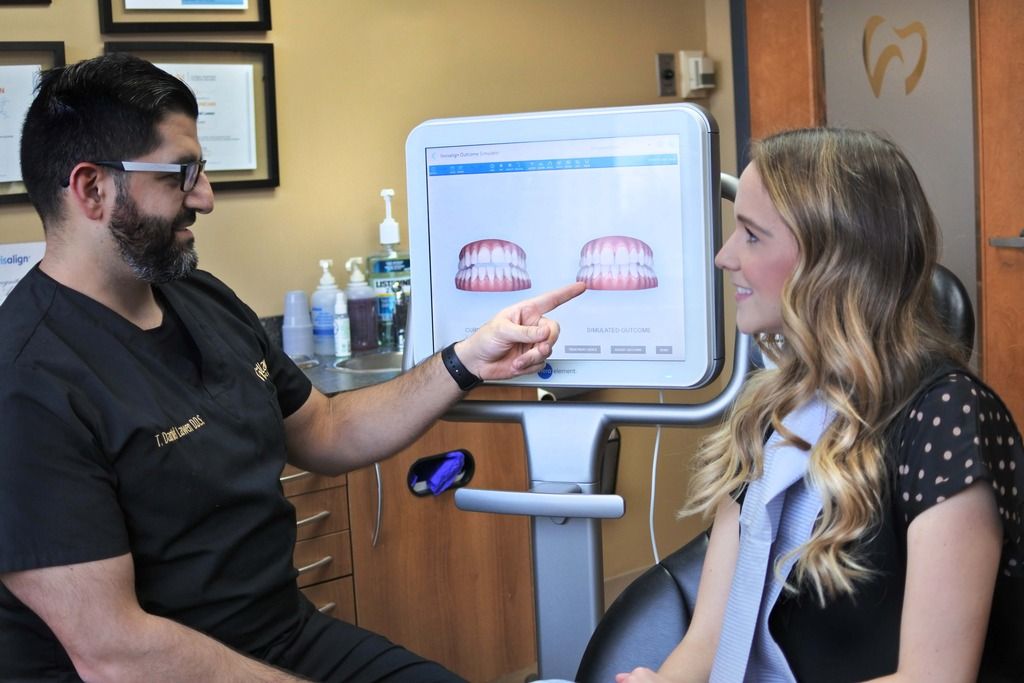 While you are wearing your Invisalign there are some practices to consider about your oral health that are important I think to note. Recently I was in for my routine 6-month hygiene appointment with Melanie (hey gurl) who is basically like a guru for all things (not just teeth), and she mentioned some things you might want to consider to keep your teeth and gums SUPER healthy throughout your treatment.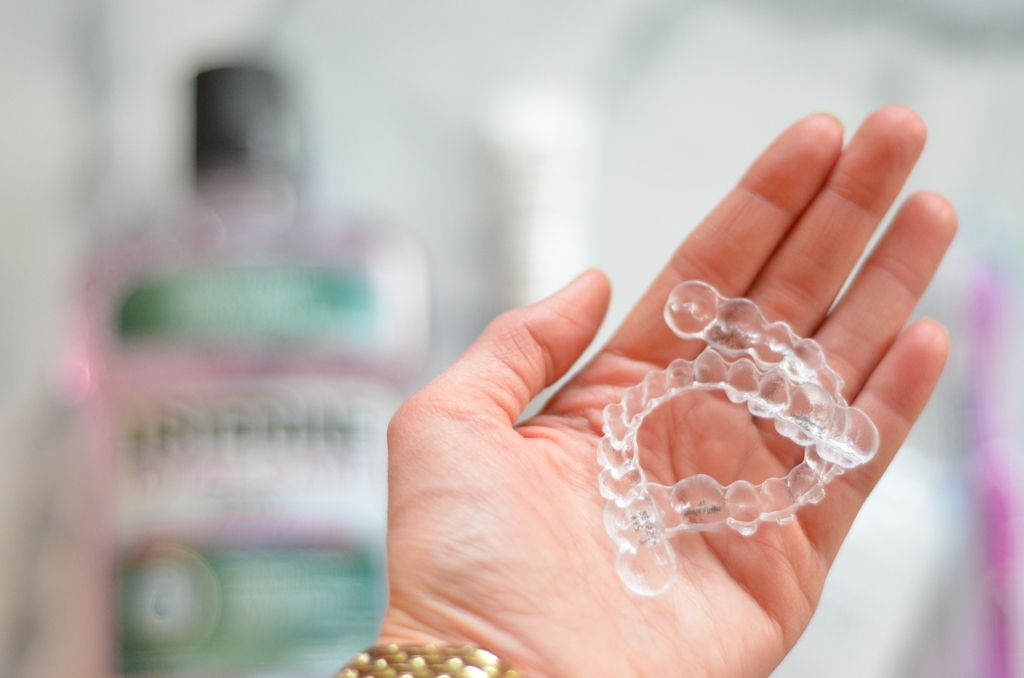 Your teeth are kind of extra dirty
Ideally, you should be wearing your trays for 22 hours a day meaning your saliva can't work its magic of cleaning debris off your teeth, and around your gums. Likewise the same is true when you drinking fluid. Things just aren't moving around as much, so you definitely need to make up for it.
You CANNOT skip flossing
When you do get a chance to brush your teeth you need to also make sure you're flossing. Any dental professional will tell you this, but you're actually more prone to plaque build up with your Invisalign. It's nothing that can't be removed, but it's just important that you do, and be mindful of.
You might need a different toothbrush
Currently, I've been using my electric toothbrush (with the Oral B sensitive tips) and I lovvvvvvvve it, but Melanie (my guru/dietician/ life coach) suggested another brush that had feathery bristles to help clean around my attachments. If you're not familiar with attachments there are little white nubs (which I also like to call my shark teeth) that help encourage the movement with your trays, but they can also cause build up of plaque or cause food to get stuck in your gums slightly more than usual.
You should also consider a rinse
My hygienist(s) also suggested using a rinse at the end of the day because while you sleep you're wearing your trays the longest, and so the bacteria is kind of enclosed around your teeth for a really long time. You're going to want something that minimizes that without making your mouth dry (which can cause a whole bunch of other problems). My hygienist suggested Listerine Zero, and while you might think that Listerine sounds harsh or what you remember of it, the Zero doesn't contain alcohol so there's no burn. I've been using it since our last visit a week or so ago, and I really do have to say I like it.
Not only did my hygienist give me advice about my gums, but we talked about vitamin D, hair styles, healthy recipe ideas, and even chapped lips. I mean these women are my kindred spirits: walking encyclopedias. I swear I could talk to them for hours.
Have you ever noticed that all the stuff at the dentist makes your lips super dry?
Yeah ME TOO, but the amazing staff at Lawen really go that extra mile. My hygienist put Vaseline on my lips to help create a barrier from the drying ingredients used during my cleaning appointment. Um, no one has EVER done this for me before I usually come out of the dentist looking like I've left a desert rather than a dentist.
If you suffer from chapped lips too, listen up! She also recommended a product for me to try that could help repair my lips (because clearly they were and always are dry this time of year). As long as you're not allergic to wool she suggests lip products with Lanolin in the ingredients, as it helps to repair. Turns out I had one from Kiehl's already, so I just started using that one more religiously and low and behold she was right!
Cleanings can get uncomfortable, but they are necessary for your overall oral health. I have some sensitivity so when I was clearly having some discomfort she graciously applied a numbing agent around the sensitive area so she could effectively clean it without making me feel uncomfortable. AND when I mentioned that my friend was studying to be a hygienist she offered to let her come shadow her, so she could learn from her 10 years of experience. I mean if ANYONE should be teaching hygenist it's her my goodness this woman is just truly an amazing human being.
AND when I mentioned that my friend was studying to be a hygienist she offered to let her come shadow her, so she could learn from her 10 years of experience. I mean if ANYONE should be teaching a newbie hygenist it's her my goodness this woman and all the hygienists at Lawen are just truly amazing human beings.
I always feel that I'm really being taken care of at Lawen Dentisty, but more than that I truly enjoy my visits. I love catching up with the girls, and chatting about hair, makeup, recipes and seeing how Dr. Lawen lights up whenever he talks about his new baby or his wife.
It warms my heart to know that they organize monthly themed potlucks together, and they really just enjoy working together. It's like they are one big family, and I'm just so happy to be a part of it.
---
To read my other articles from my Invisalign Journey be sure to follow the hashtag #SPInvisalign, and check out these articles →
"#SPInvisalign" – In this post, I answer some basic questions about getting Invisalign and how it works because to my surprise unless I meet other people who've had them no one seems to notice I'm wearing them.
"Life with Invisalign" – In my second installment of my #SPInvisalign journey, I chat here about what it's like having Invisalign. The ways in which it impacts your daily life which to my surprise really isn't bad at all. I had traditional braces in High School (but some wisdom teeth messed everything up), and honestly, if you can do that Invisalign is a walk in the park by comparison.
Despite that one time I dropped my Invisalign on the sidewalk outside my apartment and didn't realize for a good solid 30 minutes and the time my boyfriend's mom threw them into the garbage with my napkin: I'd say it's been pretty smooth sailing.
Huge thank you to the Lawen Dentistry team I can't say it enough you truly go above and beyond, and I can't believe how great my results are already. Yay only two more trays to go!
If you live in the Halifax area and you're thinking about Invisalign seriously just do it! You won't regret it, and there are so many options available now the technology really has come a long way. As always your consultation is free with Dr. Lawen, and like I said above the hygienists come with A LOT of side benefits.
Shout out to my journalism student Kaitlyn for coming along and snapping some photos with me at the dentist!
Any questions PLEASE feel free to comment below or reach out to me on social media @shortpresents.
xx
Kayla
DISCLAIMER: In exchange for sharing the details of my treatment I will be receiving partially complimentary services.  I will be checking in periodically to give updates on my journey and progress.  All opinions expressed are my own.