Over the past month, I've really been trying to flex my creative muscles. If you follow me on social media (@shortpresents) you know that January has been a month of coffee catch ups, and collaborations. Recently I caught up with one of my favorite local photographers Patrick Fulgencio for a shoot at Lucky Penny Coffee Co.
From the moody floral wallpaper to the delicious (and beautiful) avocado toast I knew I HAD to shoot at Lucky Penny Coffee Co, so of course, I thought of Patrick. It's really kind of amazing because I think Patrick and I share a brain lol it's like he knows the shot I'm looking for without even saying it.
FEATURED ITEMS:
Jeans,  Rag & Bone c/o Aritzia
Sweater, Joe Fresh
Coat, c/o Frank + Oak (on sale)
Tights, Winners
Loafers, c/o Nine West Shoe Studio
Rings, c/o Suetables
Choker, c/o Envy
Watch, Daniel Wellington (Use code SHORTPRESENTS to save 15%)
Upon first glance, there's really nothing overly fancy about this look, it's a basic pair of jeans and a black crew neck sweater. Both of which are some of my favorite I might add; however, I've have had friends point out that I don't take as many style risks like I used to, and while I would agree that's probably true here's what I think is happening.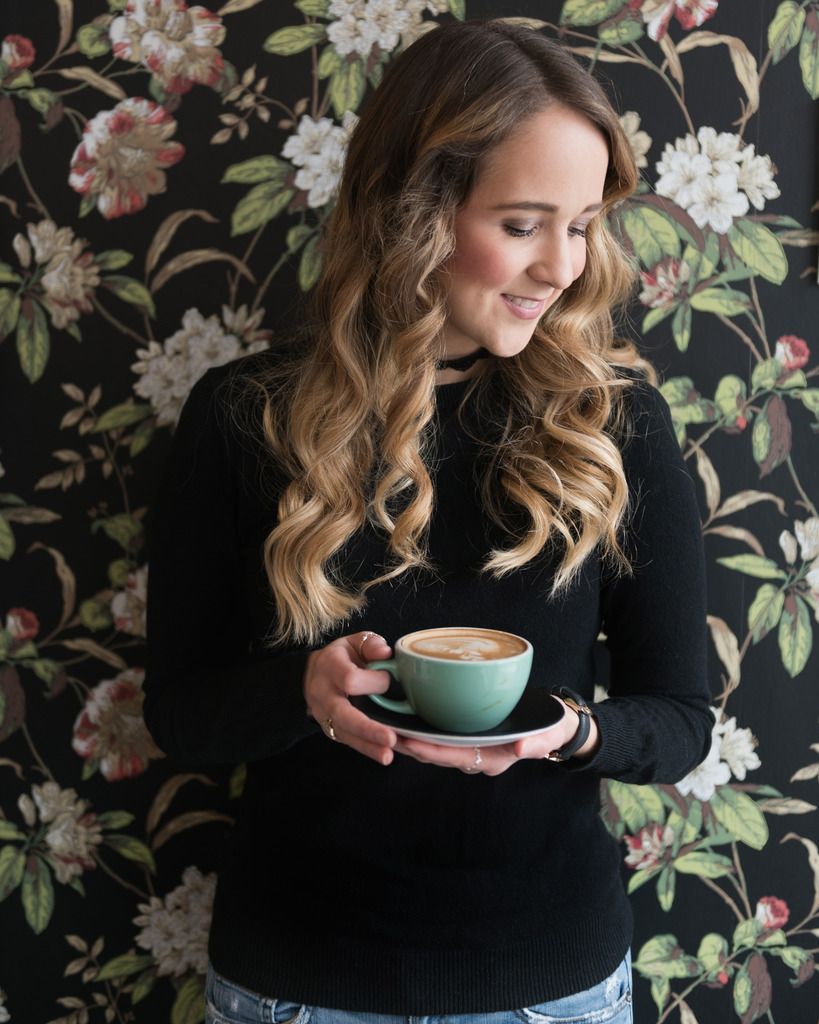 I'm getting older, and I'm not sure if it's style in general or if it's me, but I do I find I've relaxed in my style, and I've become much more confident in minimalist or a simplistic style of dress. Maybe I don't really care what other people think anymore? And it doesn't bother me to be uncharacteristicly different? I feel I'm becoming much more practical, or maybe I've finally surrendered to my aspirations of European dressing.
Call it boring, I'm pretty self-aware (so I can take it), but I fully maintain there is drama in the smaller more subtle details. And while you might need to look a little closer the details are there, unassuming, not crying for attention, but ever ready for their call to duty.
I LOVE trying new trends, and experimenting with style, but I think as I get older I've just become more comfortable with myself that people don't notice it as much. I also like the idea of taking something and wearing it in multiple different ways. I love trends, but I also like to incorporate them into my own aesthetic, and I prefer to do so in a subtle way rather than dive head first. Call if safe, but that's just how I roll folks, and I won't apologize for it.
In younger years, I might have "stepped outside of the box" more (so to speak) but maybe it was more obvious because it was wrapped with insecurities and experimentation. Sometimes you need to figure out what you don't like and how can you do that if you don't test the waters? There's something to be said about allowing yourself the creative freedom to do so, so you can be sure, and ultimately uncompromisingly yourself.
In these photos, I've opted for a choker which I'll admit is very on trend, but also very polarizing. People either love it or they hate it I really feel there's no in between. I like the choker (for now) I kind of feel a little bad ass in it, and I love the lace detailing of this one from Envy) that gets picked up in the tights. I also decided to layer my tights under my distressed denim (also a huge trend right now) which is my current favorite way to wear my favorite jeans without freezing to death in the dead of winter. And I opted for menswear-inspired pointy toed loafers to complete the look.
The weekend before last, I went on a serious hunt for fishnet stockings, and much to my boyfriend's excitement (insert sarcasm sarcasim) I was on a mission! 2 hours, and 7 stores later I finally found these tights at Winners, and while they aren't technically "fishnets" I'm SO in love with them. Rooted in scandal, I love that these tights make my favorite (most comfortable) jeans new again.
What are your thought blog reader? How do other people's interpretations impact how you feel about your style?
Huge shout out to the Lucky Penny for letting us take over for the morning, and laughing with us when we spilled our coffee not once but twice. And thanks to Patrick for being, well Patrick. Your authenticity and politeness should be cloned.  You are an absolute pleasure. To my journalism student Kaitlyn you're adorbs, and I've been loving having you as a sidekick.
xx
Kayla