Not sure what bring as a hostess gift? Today I stopped by CTV Morning Live to chat with Heidi all about what to tote along with you to your next get together! Let's make sure you thank your host in style while also ensuring you get invited back again next year! 😉
Interested in the items featured in this segment? Here are some more details on everything discussed in the clip above.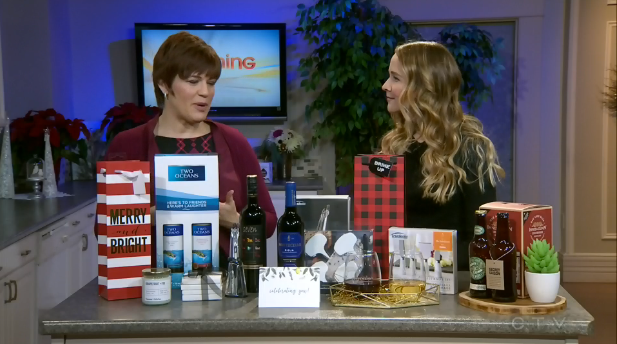 For The Host With a Refined Palette – Montecillo Reserva
A special award-winning wine, the Montecillo Reserva won 90 points from both Wine Spectator and The Wine Advocate making it great for the host you really want to wow. Specially aged for 2 years in oak barrels, plus another 16 months in bottles this wine is perfectly aged and ready to go!
This wine also pairs well with a variety of dishes – particularly rich red meat dishes and stews often associated with the holidays. Available across Atlantic Canada, starting at $23.30.
Trudeau Cuisine Wine Aerator 
Instantly enhance flavor and turn any bottle of wine into an exquisite experience with the Elite Wine Aerator. You honestly need to try this tool before and after and there's no way you won't notice the difference!
Serve a superb glass within seconds. Arguably the best accessory for wine lovers, this innovative wine tool is specifically engineered to inject air into the wine through an air intake system that aerates as you pour. Providing the equivalent of 30 minutes of traditional decanting, adding delightful aroma with every pour. Laboratory tested for superior performance, the Elite Wine Aerator also features a smart spout which eliminates drips, so you can enjoy a seamless transition from decanting to serving – without losing a single drop! When you're done, simply store the aerator away in its custom base and voilà!
Learn more here.
For The Adventurous Host – SEVEN
A blend of Spanish Merlot and Cabernet Sauvignon that reflects the lifestyle and modern attitudes of Spain. An easy-drinking wine that pairs well with tapas or a variety of holiday-inspired appetizers, so it's a great gift for a hostess because it will go with anything. This wine is new to the Atlantic market but is now available in Nova Scotia, New Brunswick and Newfoundland starting at 13.99.
For The Host Who doesn't drink Wine – Innis & Gunn
Again why are we friends with these people? Lol Just kidding I like to indulge in a beer here and there too! I love this limited edition variety box set of beers from Innis & Gunn that are great to share and celebrate with friends for the holiday season.
Each box contains, 1 Innis & Gunn Original, 1 Innis & Gunn Bourbon Cask Dark Ale, 1 Innis & Gunn Lager, 1 Innis & Gunn Secret Saison. Available across Atlantic Canada starting at $13.17.
For The Host Who Drinks Both Red and White (Or You're Not Sure) – Two Oceans Dual Gift Pack
I'm obsessed with this box set from Two Oceans that contains box a red and a white! You can give the perfect hostess gift for someone who enjoys both white and red wine (or for the host who you're not sure) with the Two Oceans Dual Gift Pack. You could also break them apart and toss them into the gorgeous gifts bags if you're going to muliple parties ! Contains: 1 smooth and light Two Oceans Sauvignon Blanc and a smoky, berry Two Oceans Cabernet Sauvignon Merlot. Available in Nova Scotia and New Brunswick starting at $25.99.
The box set includes, 1 smooth and light Two Oceans Sauvignon Blanc and a smoky, berry Two Oceans Cabernet Sauvignon Merlot. Available in Nova Scotia and New Brunswick starting at $25.99.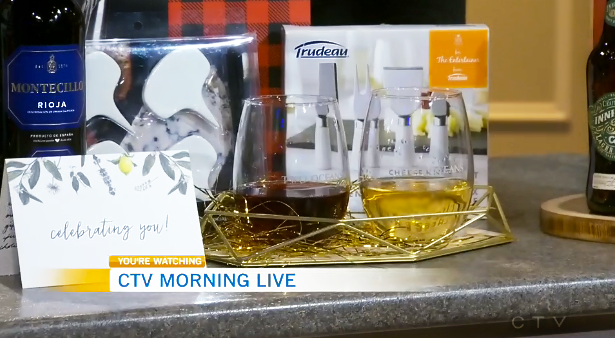 Other options to accompany these great wine and beer choices, could be the following.
Hand Poured Candles from Foxhound Collection, these beautiful marble coasters (under $15 at Winners), Reusable Cheese Labels (President's Choice), Stand up Cheese Knives (Trudeau), as well as these wonderfully festive bags from RockHead Wine and Beer Market.
---
Huge shout out to the kind folks at CTV for accpeting me today with open arms! You ceratinly know how to make a gal feel welcome! What an great way to spend the morning.
Hope you enjoyed today's post!
xx
Kayla