Great skin doesn't stop at your skincare. Clearly what you're using for makeup (you know that stuff that hangs out on your face ALL day long) makes a huge difference too.
Pigmented with minerals, the Vichy Teint Ideal formulas are infused with vitamin C, vitamin E, hyaluronic acid and Vichy Mineralizing Thermal Water giving your complexion an immediate healthy looking glow.
The Vichy Teint Ideal collection consists of liquid, cream and powder foundation, fluid concealer, fluid highlighter and powder bronzer.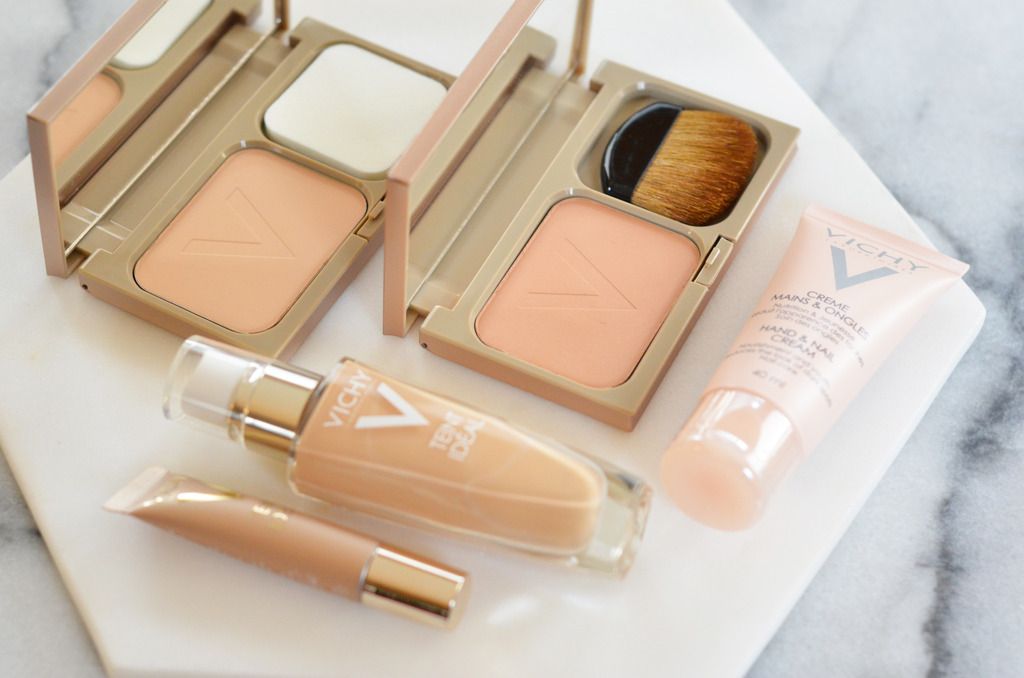 "Formulated for normal to combination skin for absolute radiance, this ultra-liquid water-based foundation fuses with the skin, forming a luminous texture and satin-finish veil".
Offers 14-hour hold • Light to medium coverage • Luminous finish
The foundation is available in 5 different shades. I wasn't sure what shade I would be so I stopped into a local Shoppers Drug Mart to get one of the cosmeticians to swatch me. I'm SO glad I did because he also got me onto the highlight (which I am obsessed with). My only complaint about this line is that there aren't more shades, but I'm sure this is something that will change over time.
I love the lightweight texture of the foundation, and its soft velvety finish. Especially when paired with the powder, and bronzer. The product lightly sits on the skin and feels super breathable while offering some pretty great coverage (at a drug store price).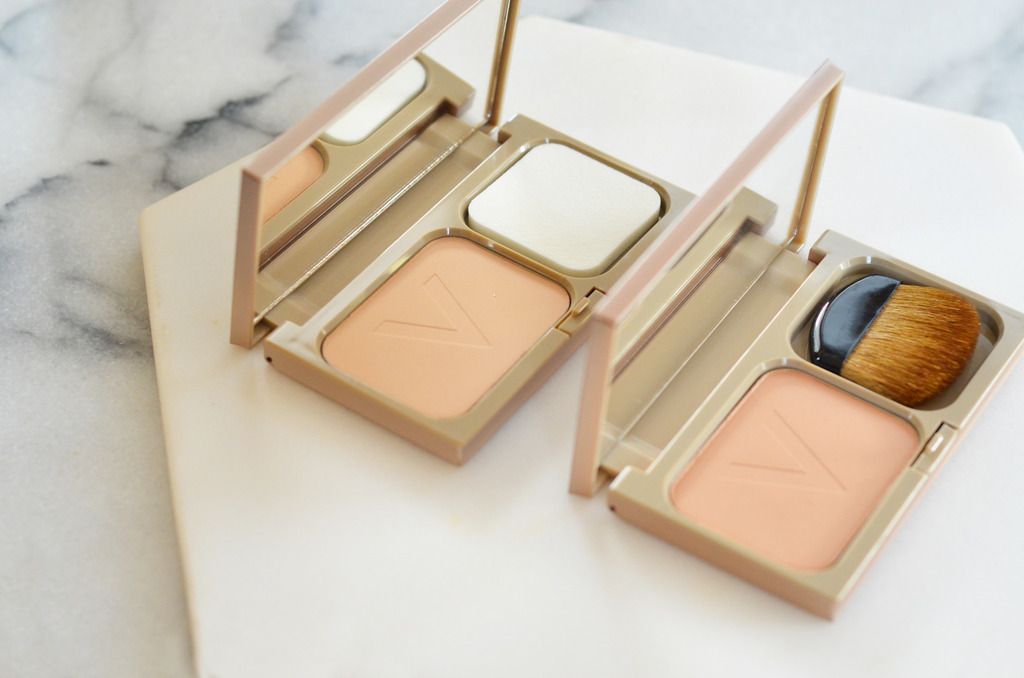 "Formulated for all skin types, this light and velvety powder unifies skin tone without weighing it down. It offers light to medium coverage and a semi-matte finish and can be used for quick touch-ups throughout the day".
14-hour hold • Light to medium coverage • Semi-matte finish
Super soft and velvety you really need to feel the Vichy Teint Compact Powder for yourself to get the full effect. I really do love the finish and the feel. I'm also obsessed with applying my powder with a sponge, so I love the one included here. It's so great for touch ups throughout the day, and also to set your foundation/reduce shine.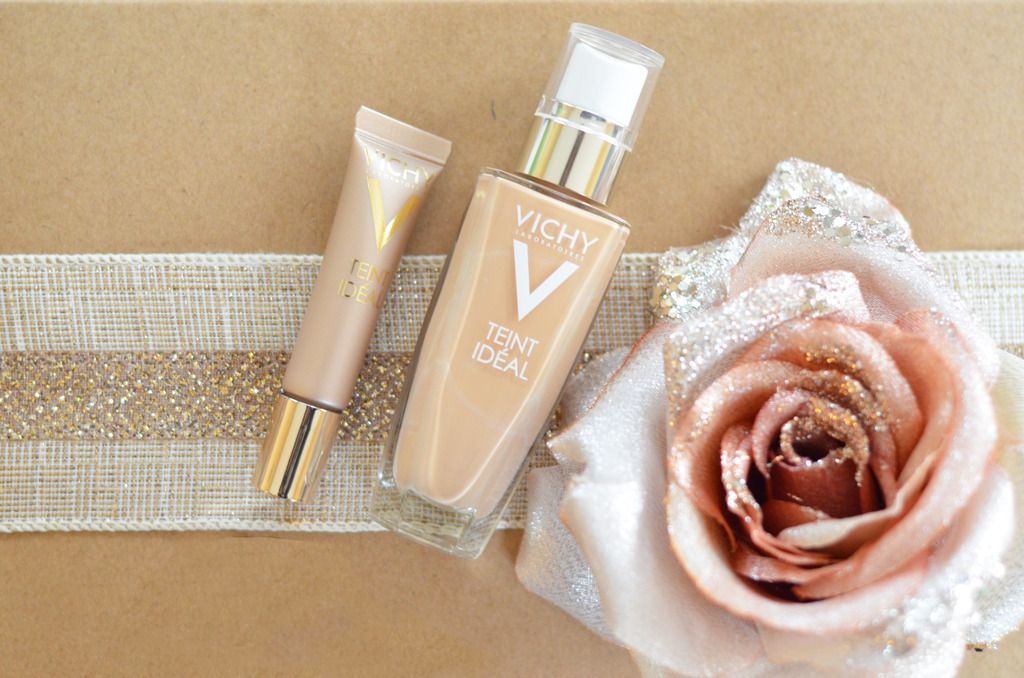 "Formulated for all skin types, this multipurpose highlighter beams radiance over dull parts of the face for an instant, healthy glow".
Enhances radiance on areas of the face that naturally capture light for a fresh and glowing complexion.
Super subtle, and easy to apply I think the Vichy Teint Ideal Highlighter might be my favorite product of the whole bunch. If there's one thing you buy it should be this! I really really like the subtle amount of sparkle and shine, and it doesn't mess up my other makeup like others I've used. I almost always stick to powder versions, but I was pleasantly surprised with this liquid version. I love applying this product to highlight my cheeks, nose, cupids bow, and brow bones.
"Ideal for all skin types and tones, this universal bronzer is dedicated to creating an ultra-natural, sun-kissed glow".
All-day hold • Natural sun-kissed finish
I adore matte bronzers because it allows me to control the amount of shine on my face, or the strategic placement of it. I know a lot of folks don't necessarily gravitate to them during the cooler months, but I use them all year round. Adding a little glow (no matter how subtle) is best way to add some color to your face, or add some depth to areas like your cheekbones, jawline, or around your nose.
---
---
In addition to the feather-light coverage, what I love about these products is that Vichy isn't trying to cover up your beautiful skin, or hide anything, but rather provide you slight coverage that enhances what you already have.
I feel good knowing that the makeup I'm wearing is also nourishing for my skin too. I'm one of those who wear makeup 24/7 lol so let's be honest I really need all the help that I can get.
---
Over here at Short Presents, we are loving these products so much we want you to try them too, so we're running a giveaway for the compact and fluid foundation on our insta @shortpresents.
Be sure to pop over to enter.
xx
Kayla