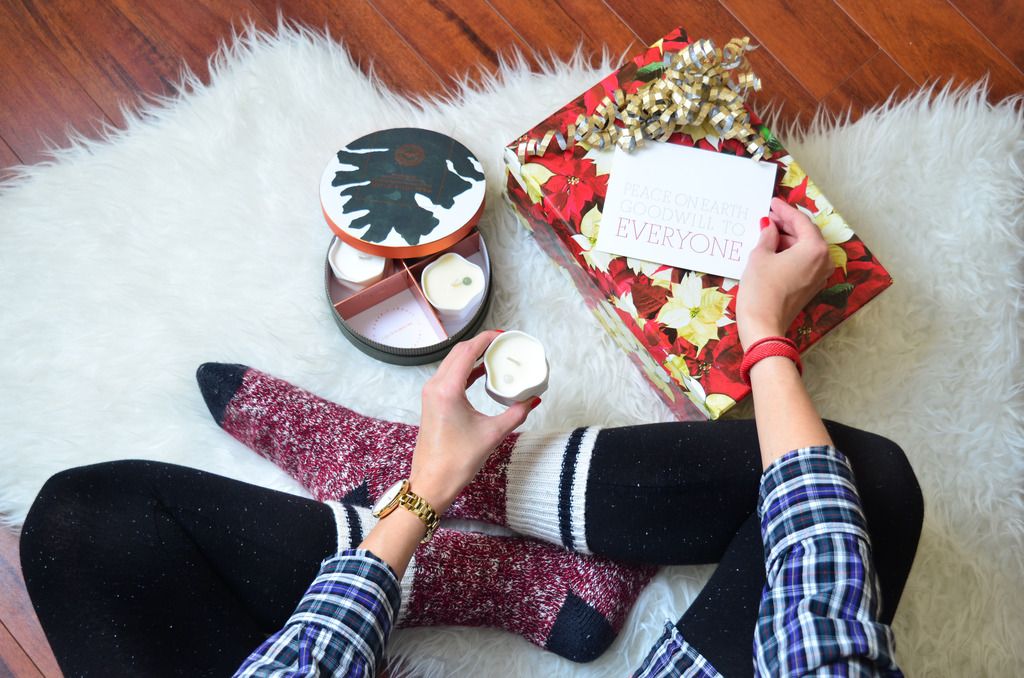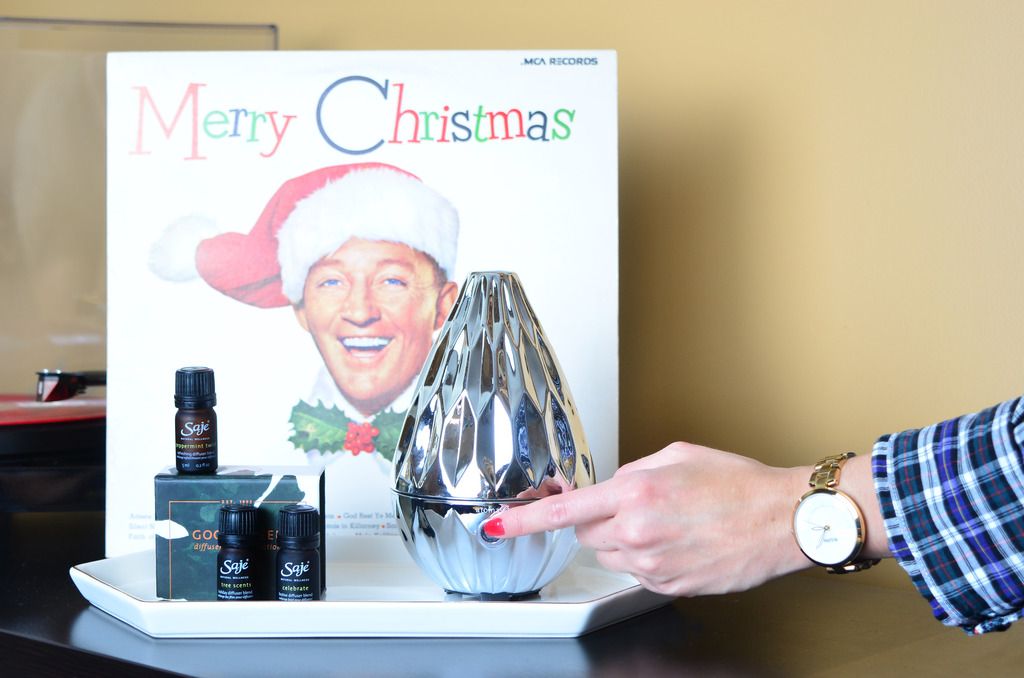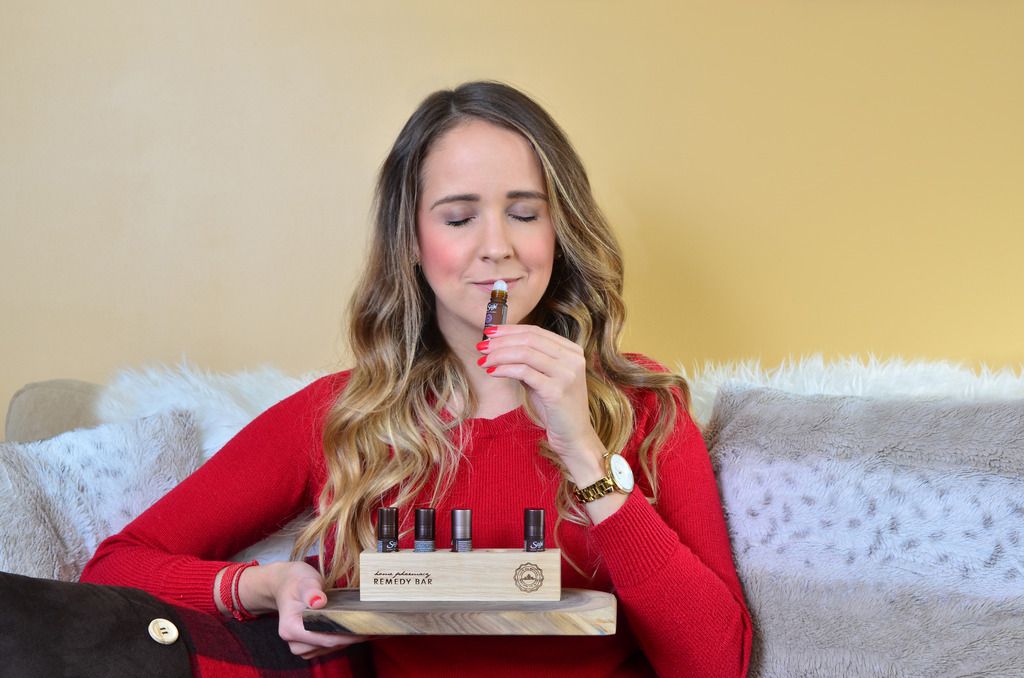 The holidays are an amazing opportunity to catch up with your family, eat plenty of delicious foods, cozy up and watch endless movies back to back with your siblings. But the holidays can also be very stressful. Whether it's trying to find that perfect gift for the tricky person on your list who has everything, you're driving or flying all over God's creation, or you've celebrated just a little too much and you're bloated/hurting all over: I promise there's a Saje Wellness product.
And the best part is, you can take comfort in knowing they are safe to use. Anyone who knows me knows how much I love these natural based wellness products, so to make things a little easier for you dearest blog reader I've put together some of my favorite Saje Wellness items for you to consider either for yourself or someone on your shopping list.
MY TOP SAJE PICKS FOR THE HOLIDAYS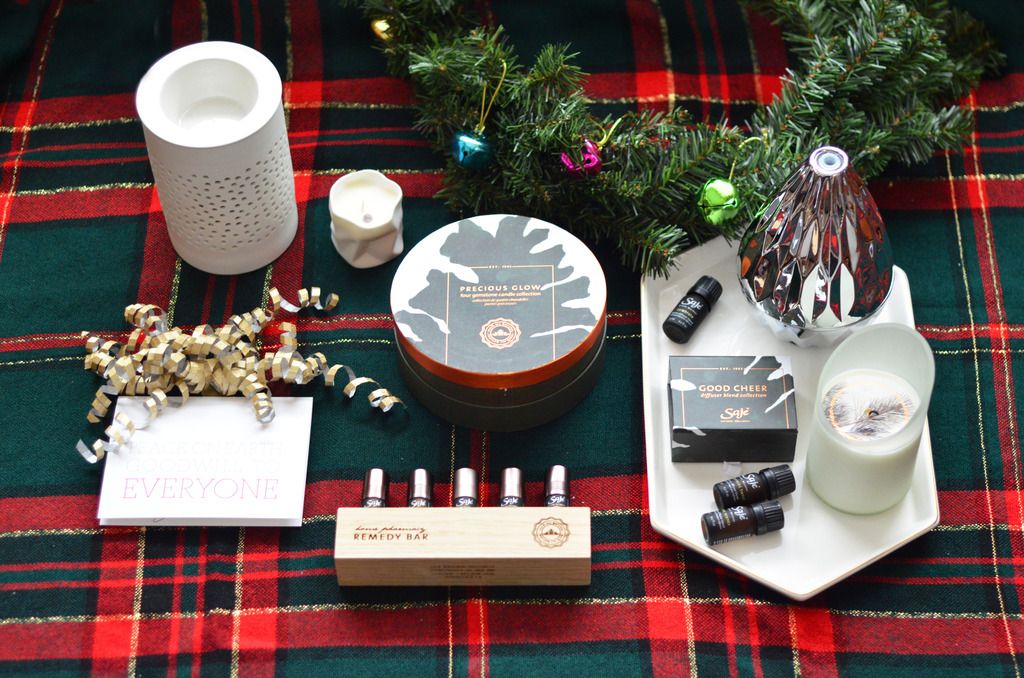 Whether you're shopping for you, a loved one, or a coworker I think you'll find something for everyone on your list. As you know I'm no stranger to Saje, but I've been using these products over the last few months now, and I'm still over the moon for all of them. Here's a quick little round up of all the items you see above.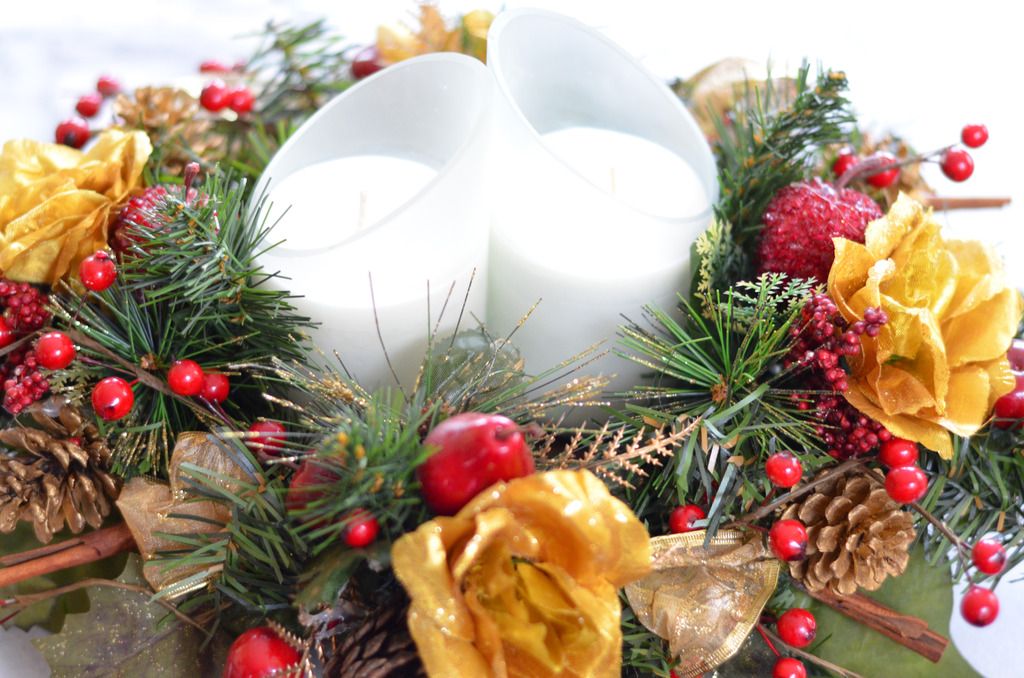 Candles
I love my nebulizers and I love the smell they provide for any room, but when the cool weather hits I can't help but also crave the warm light of a candle. It can be tough to assemble the perfect tablescape or centerpiece, but the Tall Asymmetrical Pillar Saje Candles fit so perfectly in my holiday centerpiece that you'd think they were purchased together. Aside from how pretty they are with their frosted glass and clean white design, I really take comfort in knowing that my family and I are not breathing in harsh toxic chemicals, as they are lead, bleach and chemical free.
Gem Stone Candles
For the candle lover in your life, I would absolutely suggest the Precious Glow Gem Stone Candles. Lead, bleach, and chemical free you can take comfort that you're gifting something that (a) won't harm them, and (B) smells heavenly. Can we also talk about this beautiful packaging? Both of the candles (how cool is their crinkled shape) and the beautiful box they come in? Saje pretty much has done the wrapping for you!
Or you could even split them up and add one or two to some gifts that just need something a little extra 🙂 and that way several people on your list can enjoy these adorable candles.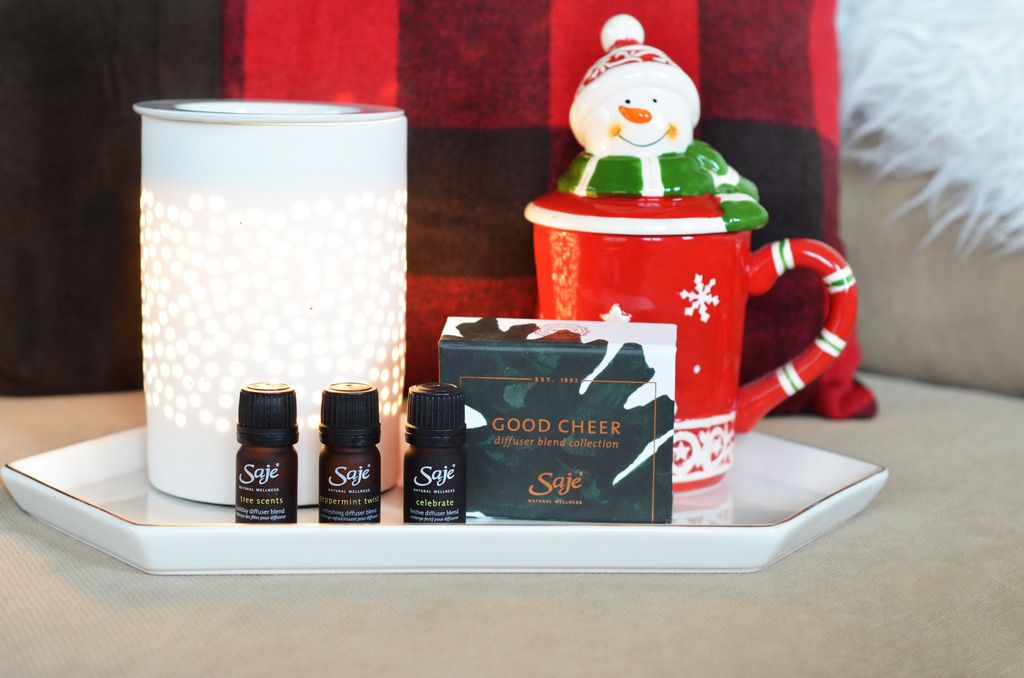 Aroma Brights
Available in two colors I chose the white Aroma Bright because it kind of reminded me of a quiet snowfall, and how it sparkles. Call me crazy, but I find it seriously relaxing. It'll fit seamlessly into your other holiday decor, and stick around long after as well. Currently, mine is in my guest washroom which is close to my apartment entrance, and I love how my guests are greeted with a pleasant smell, and it looks super cute too!
Remedy bar
As I mentioned the holidays can be stress-ful and can prove to cause all kinds of ailments. Not only is the remedy bar practical (I love the idea of having somewhere to store the roll-ons since mine are always all over the place) all of these roll-on products are so great to have on hand because you just never know when trouble will strike.
Whether it's a headache, a cold, a full tummy, or good old fashion stress and anxiety the remedy bar will be your go-to all winter long.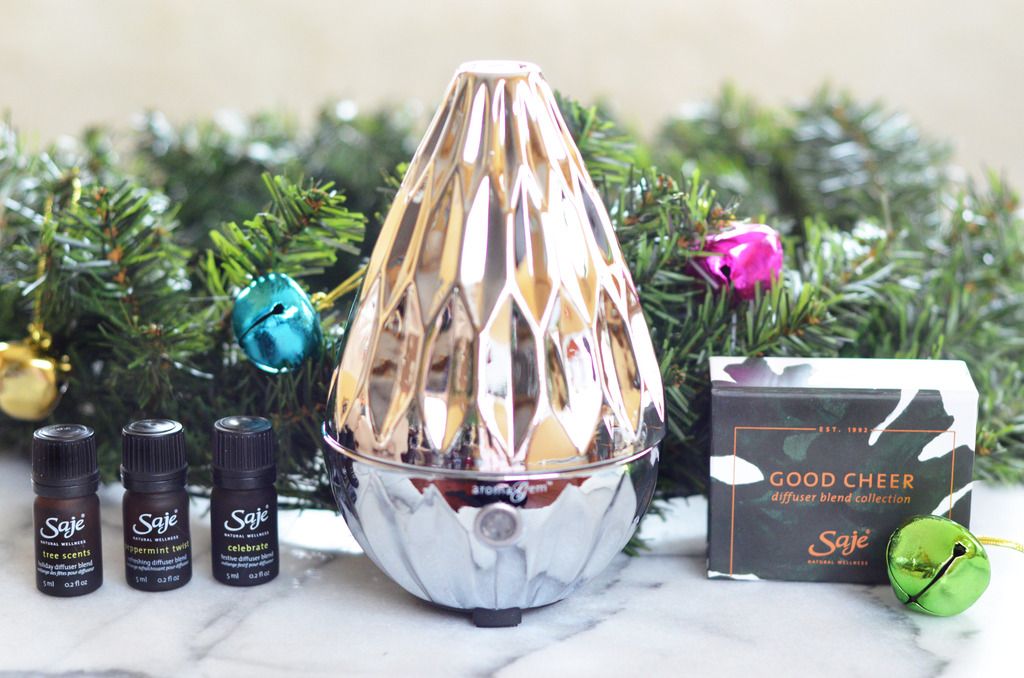 Aromagem Ultrasonic Nebulizer
Is there anything more festive than something that sparkles and shines? I adore the Aromagem Ultrasonic Nebulizer, not only because it gives me comfort in knowing the air I'm breathing is much healthier for me and my family, but also it's SO pretty! The newest version also diffuses for double the time, so you can turn it on and forget it.
Any of the Saje nebulizers would make the perfect gift for anyone on your list (even if they have one already they can always use another trust me). In addition to helping your house smell amazing, and providing customized healing from the oils you put in them did you know that the Saje nebulizers emit much needed negative ions?
The negative ions attach to dust particles and cause them to fall to the floor thus preventing you from breathing them into your lungs. Be forewarned lol because there will be a noticeable amount of dust around your nebulizer, but that just means it's working. Pretty cool right?
Because Nebulizers emit negative ions it also helps to protect you from the harms of positive ions emitted from your tv, computers, wifi etc (which are more prevelant in our environment than ever). To read more click → here.
Nebulizers are a great opportunity to spread wellness, and kickstart that person's health for 2017!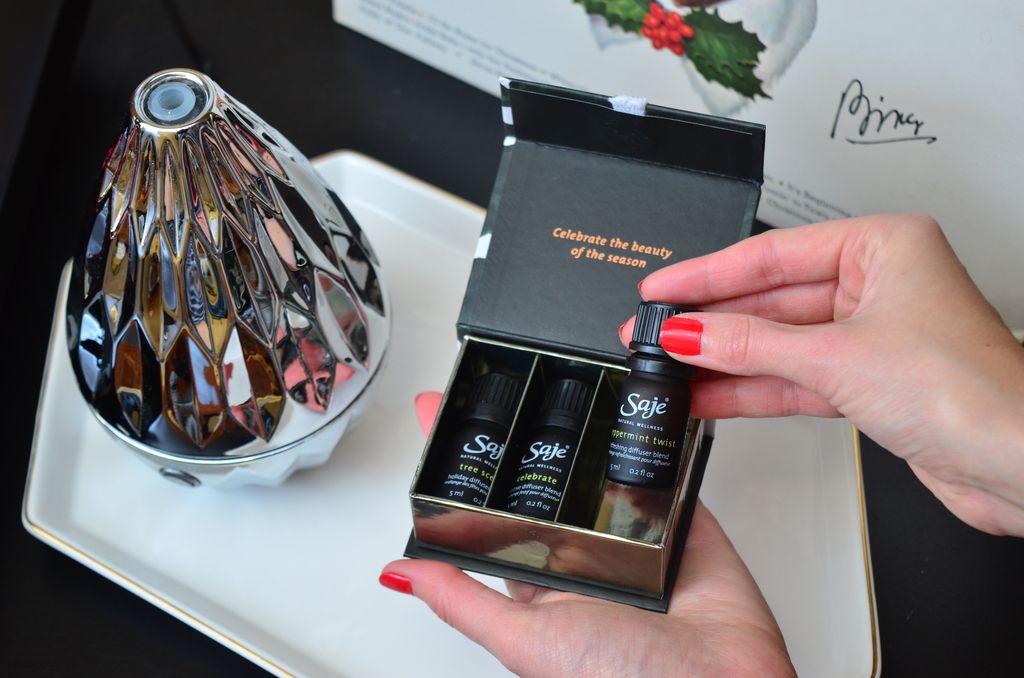 Good Cheer Blends
Unless you're the Grinch who doesn't want to spread good cheer around the holiday season? The Good Cheer custom blends are so perfect. From Tree Scents, Peppermint, to Celebrate I can't wait to defuse these all winter long. Actually, truth be told I've definitely busted these out already and maybe even the Christmas music. Can you tell that I LOVE Christmas?
I'm especially excited about the tree scents, blend because now that we are older my mother chooses ease and practicality and opts for an artificial tree. While I agree it's better for the environment, I do miss the smell of the freshly cut tree! Now we can have the best of both worlds, and have that perfect Christmas tree scent without all the work 🙂
Hope you found this post helpful! To view my FULL CURATED LIST click → here.
Happy Holiday Shopping!
xx
Kayla
*Thanks to Saje Wellness for Sponsoring this post. All opinions expressed are my own.