I love entertaining, but with my busy schedule lately preparing dishes from scratch are pretty much out of the question.
Thankfully everyone loves pizza, and one of the things I love about the Dr. Oetker Ristorante Ultra Thin Pizza pizzas is that they over such a wide variety of toppings that I know I can please a crowd by picking up a couple different varieties.
Simply toss the pizzas in the oven, and pop open a bottle of rose and you are good to go! The best part ? You can actually enjoy spending time with your friends rather than being stuck in the kitchen cooking and cleaning the entire time.
We chose to pair our Dr. Oetker Pizzas with Rose, but let's be real it's girls night so we had to have options. We also had some local cider, some Lamarca Prosecco (my fav), and some Pinot Grigio. You know, the usual suspects.
Along with the pizzas, I decided to serve a warm grilled vegetable salad with almond slivers (for crunch). I bought a freezer bag of frozen grilled veggies and popped those into the oven on a cookie sheet with some olive oil and balsamic vinegar while the pizzas were cooking, and everything was ready at the same time. I just tossed the grilled veggies with mixed greens and mandarin oranges. You could also add goat cheese or feta too of course!
To spice things up a bit, I also made a chili oil! And I'm not going to lie I kind of impressed myself with this one because it was honestly so easy, and girls gobbled it up.
For the chili oil, I simply took some olive oil, and warmed it up in a small pot with some garlic powder, onion powder, chili flakes, cumin, paprika, and a pinch of salt. Once the oil was warm enough and the flavors were melded together I simply poured the oil into a mason jar and served it with the pizza. The chili oil was both delicious to pour over the roasted veggie salad, as well as dip the crust into!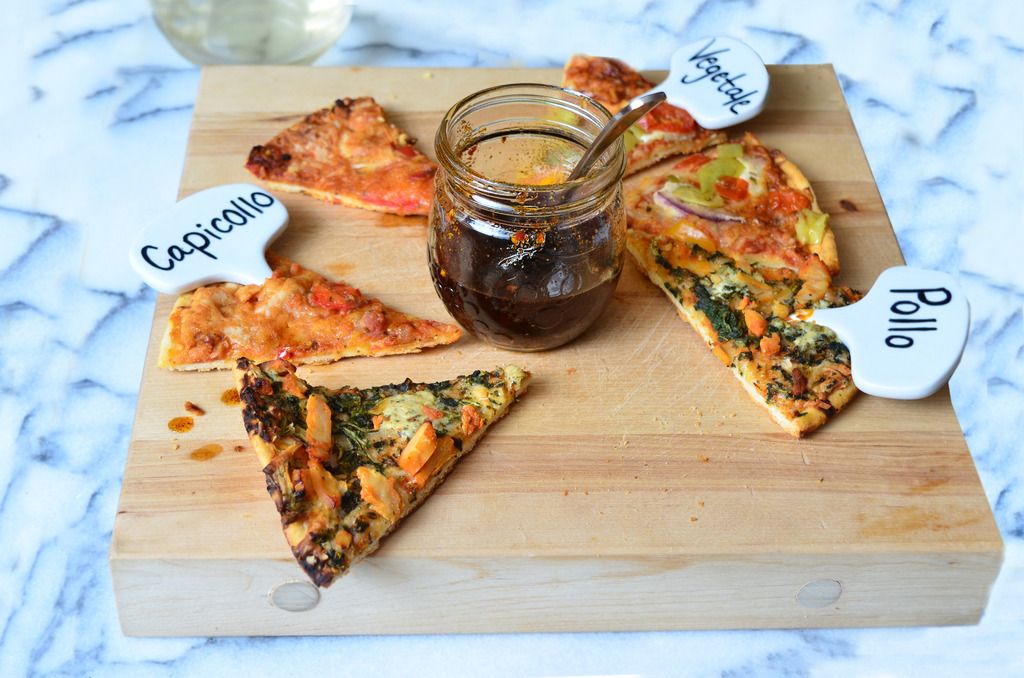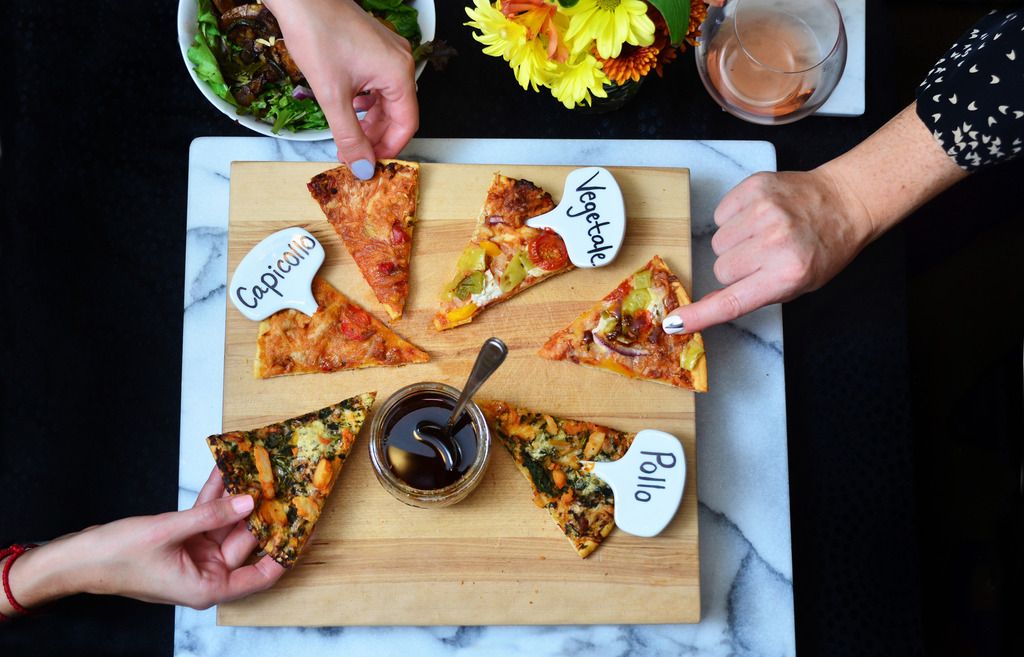 Because we all love variety, I grabbed a couple different versions of the Ultra Thin and Thin Crust Pizzas from Dr. Oetker.  With a perfect balance of toppings to crust they really don't skimp on the toppings; I have to say I love how thin and crispy the Dr. Oetker Pizzas are because you can try them all without feeling like you've stuffed yourself silly.
To keep things super simple for my guests I used my PC Reusable Cheese Plate Labels to label the different kinds. I'm pretty much obsessed with these cheese labels I now want to label everything at parties lol.
We loved all the pizza options, but I think it's safe to say the Ultra Thin Crust Capicallo was the hero of the night! Next time I'm going to buy two of these guys.
I adore spending time with my girls and we definitely don't get to do it enough (outside of our dance classes of course). These gals have some major accomplishments under their belts, and we don't usually have a lot of wiggle room in getting us all in the same the room at the same time. Sometimes our get-togethers are super last minute, and sometimes we plan them out a month ahead, but either way it was reeeeeeally nice for me to not have to worry about making something ahead of time.
If you're hosting some friends or family just remember it doesn't need to be as complicated as you think delicious eats are just a quick grocery stop away 🙂
Hope you enjoyed today's blog post.
xx
Kayla
This blog post was sponsored by Dr.Oetker, however all opinions are completely my own based on my experience.