Shoes always fit right? So when all else fails, or maybe you're just having an off day you might want to choose your shoes as the focal point.
When you want to make your shoes the star of the show you might consider the following tips.

Opt for a Crops.
Cropped frayed denim is a huge trend this season, and arguably a great way to show off your favorite pair of shoes. When your pants stop at the ankle or just above, it allows your shoes to be the focus. I love these cropped trousers from Aritzia (which I have in two colors) they are so comfortable they feel like pajamas (hello elastic waste band) and they rarely wrinkle so I take them from morning to night.

Consider a Neutral Outfit.
If you're serving up wow with your outfit, and you're lit up like the 4th of July with prints your shoes are going to fade into the background fast. Opting for a neutral color palette and minimal distraction is definitely key.
Keep Other Accessories Minimal.
If you want your shoes to be the main event make sure you're not blinging out your outfit elsewhere because your shoes will definitely go unnoticed behind that statement necklace, or those shoulder dusting earrings. Think about small subtle details.
Choose an Interesting Shoe.
This might sound obvious but choosing something like a nude pump is not going to get you anywhere (unless of course the bottoms are red). Choose a shoe that's interesting and different. I love these blue python pumps I'm wearing above (a) they are super comfortable with their block heel, and (b) they are blue AND printed. I mean, so cool right?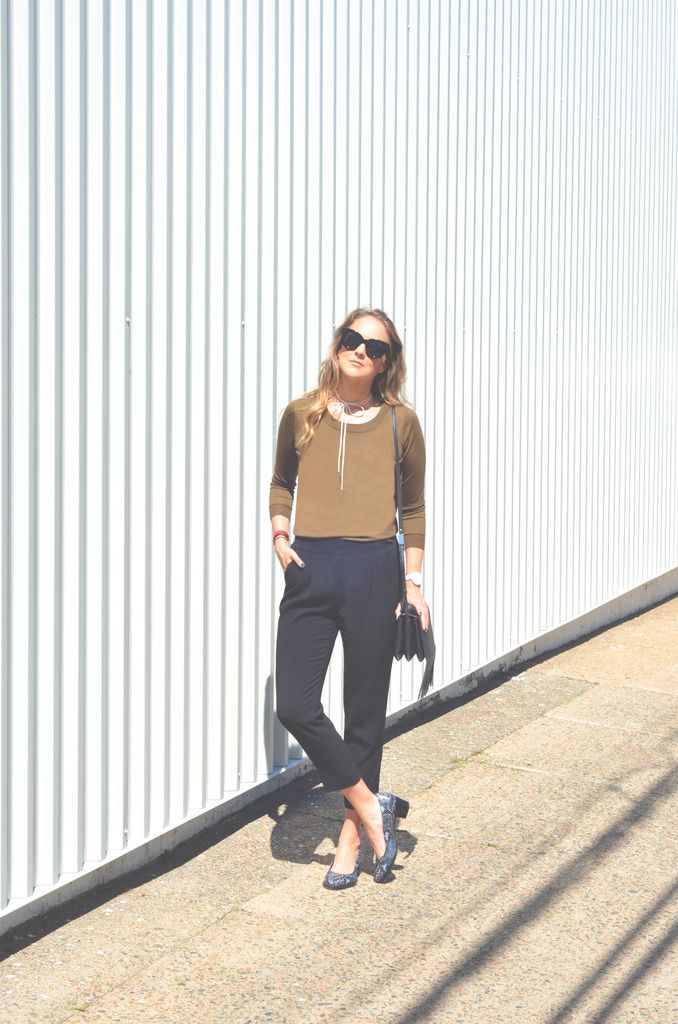 Play Around with Socks.
It gets cold, and sometimes a girl just needs some stockings, but what you choose can really make a difference if you want your shoes to be the focus. Have fun with different patterns and textures to create visual interest around your shoes. Think about various types of socks (over the knee, or trouser), as well as pantyhose in a variety of colors and textures. Bonus points if your shoes and socks don't match perfectly. I'm super excited, I just picked up a pair of white sheer polka dot trouser socks from Forever 21 (they were a dollar), and I can't wait to pair them together with these shoes.
WHAT I'M WEARING:
Trousers, Cohen Pant c/o Aritzia.
Sweater, J. Crew.
Pumps, c/o Ecco.
Choker Necklace, Le Chateau (more here).
Sunnies, Celine "Caty" c/o Smart Buy Glasses.
Watch, c/o Bulova.
Bag, Aux c/o Aritzia.
---
---
For more tips and inspiration for "how to style your shoes" see how the other Style Panelists styled their shoes over on Fashion Magazine.
---
---
Hope you found today's post helpful! If you've got some cute shoes you want to show off be sure to connect with me on social media @shortpresents I wanna see!
xx
Kayla