Since I am off celebrating birthday shenanigans, and you are probably tired of seeing this face week after week. I decided to do something different this Friday, and so I put together a little round of up of my favorite Fall trends for 2012. Here are some little inspirational treats for you blog readers to keep in mind when prepping your favorite Fall outfit.
Oxblood (Burgundy)
Try a statement jacket in the this fresh fall color, or even boots, pants or purse! I'm loving this rich color for Fall, and I love how flattering it is on all skin colors. Burgundy looks amazing paired with navys, grays, cremes, and mustard yellows.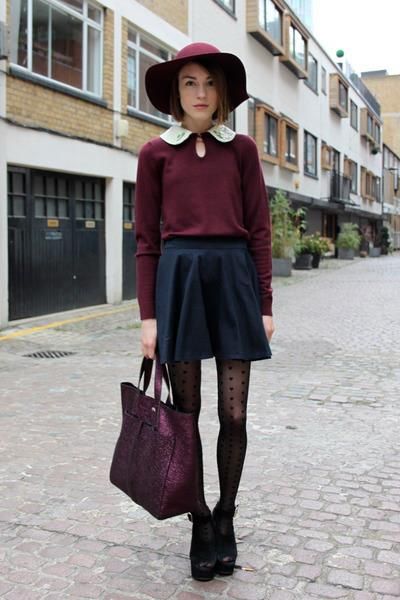 Photo c/o Chictopia
Animal Prints
Honestly animal prints are always in; especially in small doses. Try adding a pop of spice into your outfit with a little extra animal print! Personally I love adding animal print scarves, shoes, or dare I say it gloves to an outfit. Yes blog reader that special time of year when all skin needs to be protected from the bitter cold air is upon us. Bye bye summer; hello hats and mittens. Also as an alternative you could try a printed t-shirt featured below, as word by Amy McKay at the Reginald Fall Fashion Party recently.



Photo c/o Reginald Magazine


Black and White Prints
My favorite are polka dots and houndstooth. Has anyone noticed that houndstooth is EVERYWHERE this season? I love this black and white print trend when it is worn with strictly all black and white pieces and then maybe a little pop of color thrown in like a hunter green or mustard yellow! Swoon. If you go for a blouse in these prints you could also pair it with some boyfriend jeans 🙂 we love a boy friend jean especially when worn with a heel.



Dress Available @ Joe Fresh – $49
Shirt available at ASOS


Punk Inspired Accessories
With everything from studded arm parties to collars, and shirts galore; it's easy to spot this trend from a mile away. Personally I am REALLY loving studded loafers lately! There's something about the studs and charms that seem to liven things up a bit with an otherwise boring piece. Make sure to wear these pieces in moderation; less is more.
Crimson Red
Whether it's skirts, dresses, pants, or jackets crimson is the new black for Fall. Best not to sport this look head to toe, but breaking it up with neutral pieces is a win.



Available at Riverisland.com
Available at ASOS


Over-Sized Cozy Sweaters
Nothing says fall like a nice comfortable sweater. Try mixing up this trend with some skinny pants (thinking camo print), a long skirt, or even a leather pencil skirt. If the sweater is wearing you, you can always belt it and it will help to define your waist, or opt for a short length. Similar sweater to the one below available at Joe Fresh for $29
Collars
Swooning over these fabulous printed and studded collars lately. With this look you hardly need accessories around the face. I love this look with hair pulled back, so you can totally show off the neckline. Choose a neck line that flatters your face shape: rounded edges for a angular face, and pointy tips for softer features.
Wide Brim Hats
I love a good hat, and frankly I don't think we wear them enough! Create a little mystery with your fall wardrobe with this statement fashion accessory. These hats can be causal as much as they can be sexy depending on what you pair them with. For a casual look pair a wide brim hat with your favorite fall sweater and boyfriend jeans. To add a little more sex appeal pair with a mini, black tights, and sky high booties for a legs for days look.
Happy Friday Blog Readers!
Much love
Short Presents