It's the most wonderful time of the year. While the song suggests the holidays I would argue fall is the best time of year. Is there anything better than popping on a leather or suede jacket, and heading out the door? I don't know about you, but it's nice to not feel like a Michelin man to keep warm, so I'm going to enjoy this light layers time for as long as I can.
It's amazing how much a jacket can change your look, and your confidence level. Whether you opt for leather or suede there's something about these two pieces that instantly make you feel like a badass, and I know if I have to say it, it probably means I'm not a bad ass, but how fun? I absolutely adore how clothing can completely transform a look (and a person).
Lol This quote from Mean Girls gets me every time. I have no idea who Lucy is, but she is definitely my people.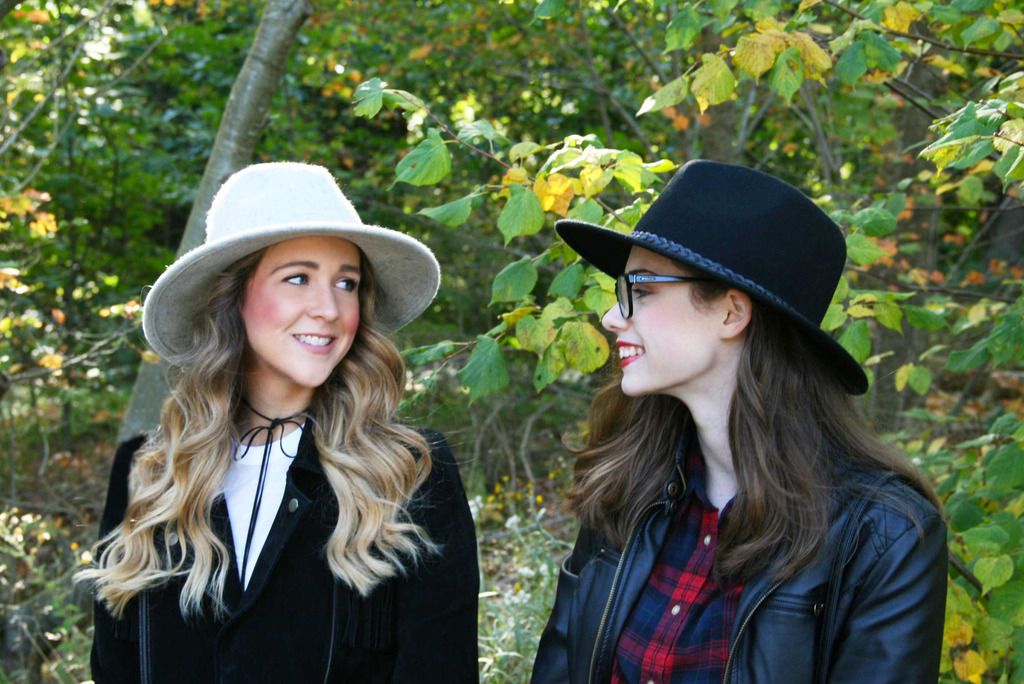 Whether it's with some high waisted jeans, a dress, trousers, a plaid shirt or a tee there's so much versatility with a suede or leather jacket. It's funny a few days ago my boyfriend was like "you really like that jacket hey"?, and I was like "what makes you say that", and he was like "well you've been wearing it NON-STOP".  I really can't argue lol because so long as it's not raining I'm pretty much wearing this jacket.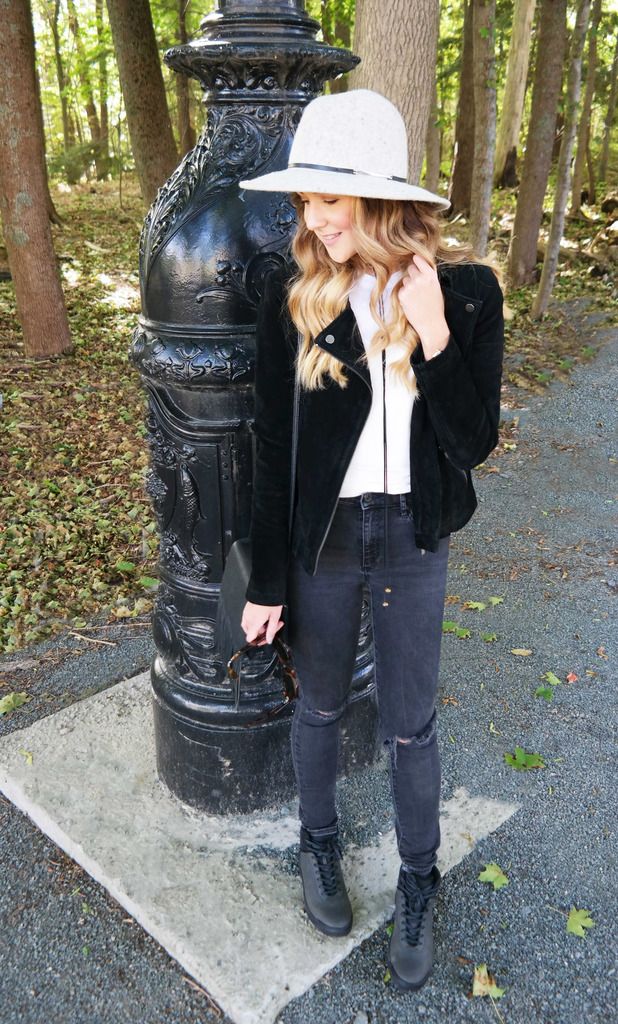 WHAT I'M WEARING
Shoes, "Explorateur" c/o Lacoste
Choker, Skimbaco
Jeans, c/o Gap
Tee + Tank, Envy
Hat, Forever 21Jacket, c/o Le Chateau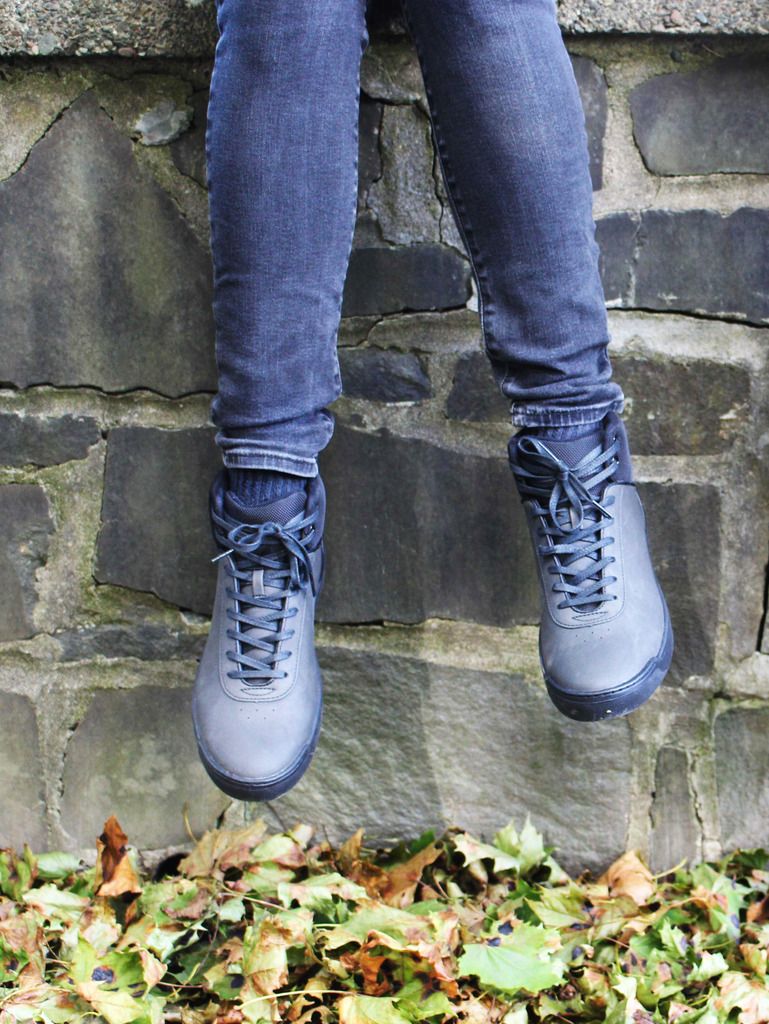 I need to also chat about these shoes really quick because I am sooooo in love. First of all, I love Lacoste, we've had a lonnnnnnnnng love affair. I have a few pairs of Lacoste sneakers that I've had for years, and they hold up so well which makes me come back to them time and time again. Recently I got The "Explorateur" or Urban Explorer shoe from Lacoste, and it really is the perfect hybrid for limitless exploring in your city while still feeling super chic. I love that you can be ready for everything and anything, and for someone like me who loves to be spontaneous and also walk everywhere it's the perfect fall shoe for me. Hence my excitement in the photo above. lol
WHAT ISABELLE IS WEARING
Jacket, Winners
Plaid Shirt & Pants, Uniqulo

Bag, Bench
Boots, Hunter
Hat, Roots

Bracelet, c/o Skimbaco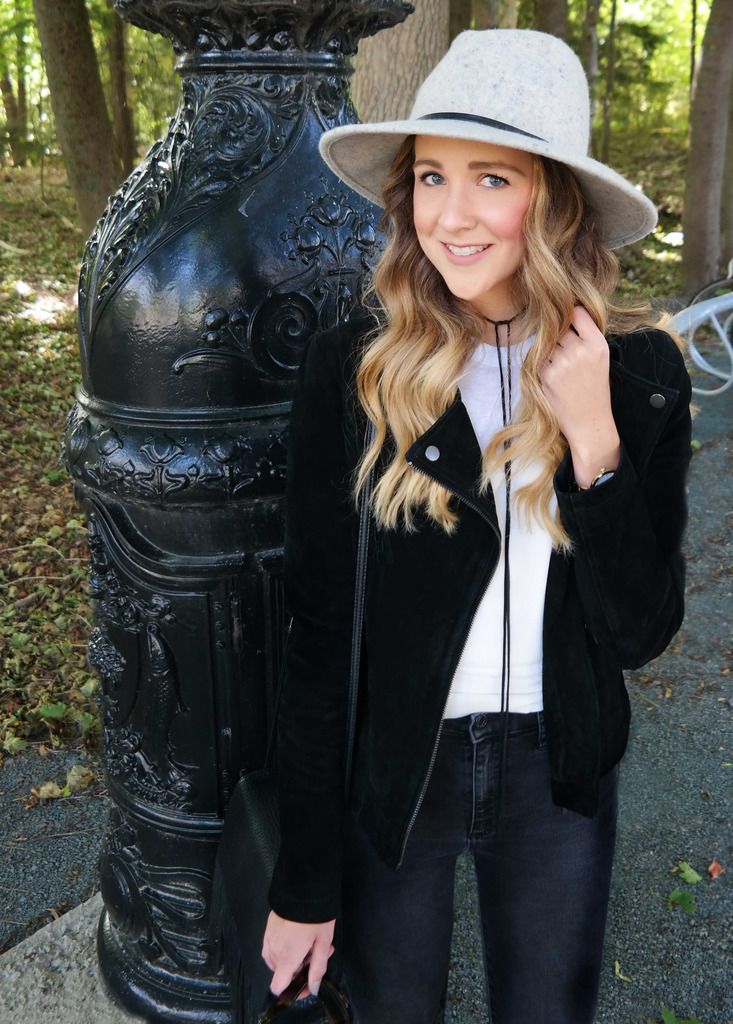 How cute are these shots from the Autumn Issue Skimbaco online magazine I shot with Isabelle (@avlogginggirl)? Check out the Skimbaco magazine here, and a cute little video promo here.
Before you go I just want to draw your attention to my necklace (seen above) I've been loving styling this wrap around choker, but did you know that you can apply essential oils to the material and it maintains the scent for you? It's like a to-go diffuser, and ya'll know how much I love essential oils. I apply lavender to rope in the morning to help keep me zen all day long, and since I'm a big hugger I feel like I'm also giving it out too. The Skimbaco diffuser jewelry pieces are pretty neat (there's a bracelet too), and after hearing Katja explain them to me it's clear she's very passionate about offering a great quality product. If you're interested you should check them out here's a link > Shop Skimbaco.
I had so much fun shooting these photos (if you couldn't tell) thanks so much to Katja Presnal for snapping them.
What are some of your favorite ways to wear a leather jacket?!
xx
Kayla